Bluestacks is the name that comes, immediately, to the mind when anybody speaks about Android Emulators. Android Emulators are designed to bring the Android Environment to your Windows PC/Laptop and are a boon for Android mobile app developers who have to test their apps often. But, in certain situations, if Bluestacks is not working on your PC; it might be due to compatibility issues; then you have to search for the best alternative to Bluestacks Emulator. Speaking about the best there is none other than Nox App Player that can provide the same facilities comparable to Bluestacks.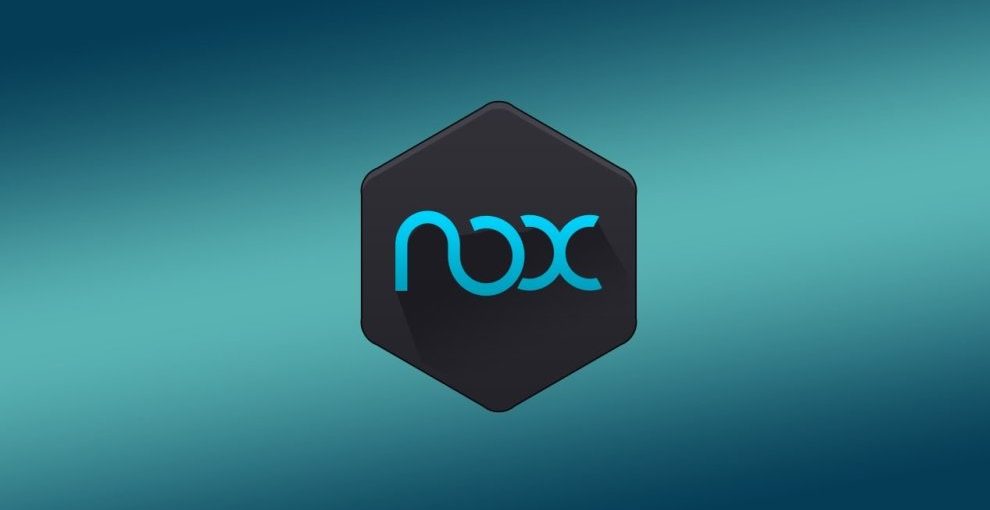 Apart from Android mobile app developers, Nox Emulator is good for Android gamers as well who will like to take their Android gaming experience to the big screen of their Windows 11/10/8.1/8/ PC/Laptop. Moreover, users of Nox App Player have reported the emulator to have more efficiency and much more stability as compared to other Android Emulators. This makes Nox a much better choice if you are looking for the best alternative to Bluestacks Emulator. With all this, it becomes mandatory to share with you the features of the Nox App Player.
Nox App on PC | Features
Nox App Player has got tons of fantastic features to make your Android experience easy and smooth on the big screen of your Windows PC/Laptop. In fact, the user interface of the Nox Emulator is impeccably clean and tidy with each functionality quick and easy to access. There's been a long battle going on in terms of comparison between Bluestacks and Nox Player. The below give features will show you which one is the best. For us, after a steady detailed review, it's proven that NOX App Player is the best.
Google Play Store has a lot of advanced and sophisticated games. The gameplay of such Android games becomes even better when played on the big screen. In fact, the primary reason behind the installation of an Android Emulator is to acquire the ability to play cool Android games on the big and widescreen of Windows PC/Laptop.
With a majority of Android Emulators, Google Play Store doesn't come inbuilt. Users, often, have to resort to external measures for installing Play Store on the emulator so that they can download and install applications directly from it. However, this is not the case with Nox App Player as it comes with Play Store inbuilt.
If we speak about the minimum requirements of installing the Nox App Player, a 1 GB Graphics Card is also included in that. Most users regard this is as a disadvantage. However, Nox App Player provides an amazing user experience and fantastic Android gaming because of its great graphics, and to experience this kind of graphics, a 1 GB Graphics Card needs to exist.
In the bulk of other Android Emulators, multi-tasking is not easy and is quite slow. Moreover, some emulators don't even allow multi-tasking. However, Nox fully supports multi-tasking. You can open more than one window at once and use the real-time multi-tasking feature of Nox Emulator. Moreover, multitasking doesn't mean that you can only open multiple applications. You can even play multiple games at once on Nox Emulator.
Another beauty of Nox App Player lies in the fact that it is fully compatible with Windows 10 and users have reported no issues whatsoever, as of now, with Nox Emulator on Windows 10.
If you love to create Android mobile guides or share your gaming high score with your friends then you will love the feature of screen capturing and recording present in Nox App Player. By using this inbuilt feature you can create fantastic guides and screen recordings and share the same over social media applications.
The compatibility of the Nox Android Emulator with games and applications is pretty amazing. Whether you like new-generation apps and games or prefer to go old-school, Nox has got everything for you.
Also, if you happen to love rooted Android phones, then you will be happy to know that the Nox App Player can be rooted pretty easily to support all the rooted apps and games. This feat is considerably hard to achieve on other Android emulators.
Last, but not least, you can customize the sidebar as well in the Nox Emulator.
Well! The feature set is, indeed, awesome. Of course, you are waiting to get to the download and installation part, but before that, you require to understand the minimum requirements for installing Nox App Player on your Windows 10/7/8/8.1/XP PC/Laptop.
 Nox Emulator Info
| | |
| --- | --- |
| App Name | Nox App Player  |
| Developer | Kimnichi (Nox.Limited) |
| Category | Android Emulators |
| Latest Version | v7.0.5.8 |
| Size | Varies With Device ( Windows 344 MB, macOS 367 MB) |
| Languages | English, French, Brazil, Portuguese, Japanese and Spanish |
| Platform | Windows 10/8.1/8/7/XP & Mac PC/Laptop |
| Last Update | 2023/06/14 |
| License Type | Free |
| Downloads | 10000000+ |
Minimum System Requirements
Windows OS Requirement:
Windows 11
Windows 10
Windows 8
Windows 7
Windows Vista
Windows XP SP3
macOS Requirement:
Mac Sierra 10.11
Mac Sierra 10.12
Hardware Requirements:
You need to make sure that your PC is running on a 2.2 GHz processor.
A minimum of 2 GB of RAM is required for Nox App Player to run at its full capacity.
1 GB Video Memory is a must.
A minimum 1 GB Graphics Card is a must.
Please note that if your system doesn't meet the minimum requirements then Nox App Player, even though it gets installed, won't work at the optimum level.
Now, since you are aware of the minimum system requirements we can move towards the download and installation steps for Nox App Player Latest Version 7.0.1.3 on Windows PC/Laptop. You can also try this movie app on PC with Nox App Player: Cinema HD APK Download on PC for unlimited movies and tv shows.
 Install Nox Emulator on Windows 11/10/8/8.1 PC & Mac  
Here we will be giving you the complete steps regarding the installation process of Nox Emulator on your Windows PC and Mac.
As first please launch the web browser from your Windows PC/Laptop and head to the official website of Nox App Player.
Please wait for the webpage to load. Once the webpage loads up you will see a pink-colored 'Download' button or else you can download the executable file of Nox Emulator from the below given.
Tap on it and the offline setup for Nox App Player will download on your Windows PC/Laptop.
Once the Setup File gets downloaded, please tap on the same to initiate the installation process. Simple on-screen instructions will follow and on the final screen once you hit 'Install' the Nox Emulator will start installing itself on your Windows system.
Again, you require maintain patience as the installation process might take some time to complete.
Once the installation is successful press on the 'Finish' button and exits the Setup.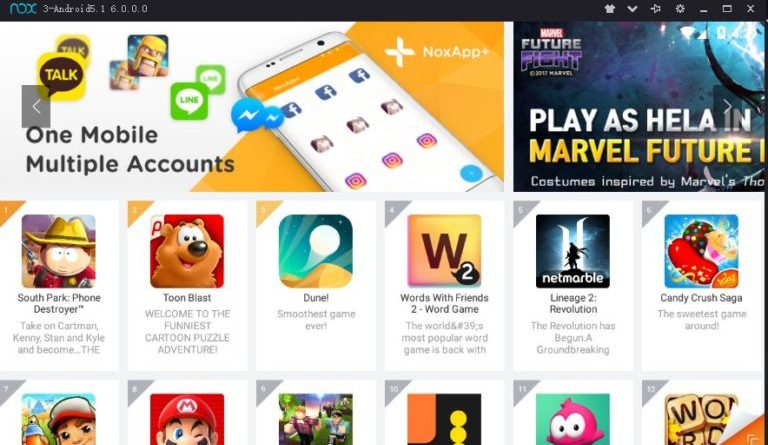 You will be able to locate the icon of Nox App Player on the desktop or on the quick launch section of the taskbar, provided you have chosen the option for that during the setup.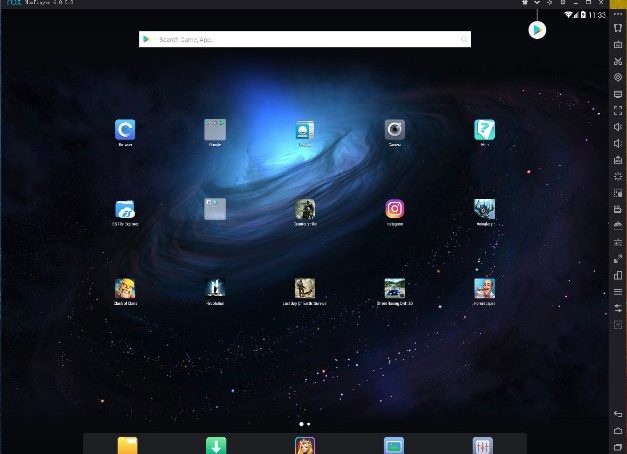 Double-click on the icon and Nox Emulator will launch itself. You require entering your Gmail ID and password to access the Google Play Store.
Great! Now you can start downloading the applications from Google Play Store and use them accordingly.
With this, you have successfully installed Nox App Player on your Windows 11/10/8/8.1 PC/Laptop. However, you might be eager to know the comparison between Bluestacks and Nox App Player. For your convenience, we have provided that below.
Best Third-Party Apps Store on PC: TweakBox Download for PC ( Windows & Mac) Laptop Guide.
Bluestacks Vs. Nox Emulator – A Mighty Comparison
Nox
However, Nox App Player is equally good in Android gaming on PC and doesn't suffer from lags in performance. Moreover, as mentioned in the features above, you can play multiple games at once on Nox App Player without any issue in performance.
But, Nox App Player is considerably light as compared to Bluestacks.
if you are facing compatibility issues with the latest version of Bluestacks, due to its heavy system requirements, you can go with Nox Android Emulator and it will serve your purpose equally well.
Bluestacks
Though the latest version of Bluestacks might be the world's largest mobile gaming platform on PC, after the latest update, it is experiencing quite a bit of lag in performance.
Bluestacks does score high on several benchmarks.
Bluestacks is, indeed, a much better Android Emulator as compared to Nox App Player but in terms of being lightweight and low on minimum system requirements
Check out the best Apps that you can install in Nox APP Player:
Frequently Asked Questions
Q - Is it safe to use Nox Emulator on my device?
Yes, it is totally safe to use Nox Emulator on your device. Very often we miss the opportunity of getting consoles that supports applications like Nox. So, with Nox Emulator we can easily enjoy games and other applications. You will not have to worry about your privacy or security as the application is totally safe to use.
Q - Is Nox Emulator free to use?
Yes, Nox Emulator is a free to use application that will allow you to simulate your android device. The application can be installed from our website. Ensure to only download from trusted source to avoid any security breach of your device. The application is free to use and is accessible to everyone.
Q - My Nox Emulator crashed, what to do?
If your device's Nox Emulator crashed, do not worry. First, try to close the application and open it. If it doesn't fix, then restart your device and try to open again. Finally, if the problem still persists, then delete the application and reinstall it from a trusted source. This will help you avoid crashing of Nox Emulator in your device.
Q - Is Nox Emulator the best emulator?
Yes, Nox Emulator is the best emulator that will allow you to access a wide-range of application for free. You can simulate your android device through Nox Emulator and access all the features on your device safely. This is why, Nox Emulator is the best emulator.
Nox App Player –Fix Errors
If you are facing certain issues with Nox Android Emulator then the following are certain FAQs that might help you out.
 How to connect Controller with Nox App Player?
At first, you require connecting the USB Cable of the controller with your Windows PC. Once the connection is established you will witness a 'Controller' icon on the upper left side of the emulator.
Once you tap on this 'Controller' icon you will get navigated to 'Settings.'
Inside 'Settings' you can set and control the character's displacement through the Analog-stick. Moreover, you can set the Multiple Strikes effect as well.
Once, you save these 'Settings' you are ready to use the controller on the Nox Android Emulator.
How to solve Error 1020/1008: Virtual Machine Failed to Start?
Before you follow the below-provided steps to rectify the above error please restart your PC. Don't launch the Nox App Player and shut down all anti-viruses and firewalls before continuing.
Right-click on the Nox icon and choose 'Open File Location' from the menu.
You will be navigated to a Bin folder. However, you require going to the Nox Emulator folder which is one folder prior to this Bin folder.
Inside the Nox folder please click on the folder titled 'noxvm.'
Here you will be able to see an object titled NOXVM. Just right-click on it and tap on "Run as Administrator."
The error will, indeed, get resolved now.
 How to fix the FGO Crashing Issue on Nox after the update?
As a first you require making sure that you are running the latest version of Nox App Player. For that simply head over to the official website and download and install the latest version.
Next, please launch the Nox App Player and head to 'Settings.'
Please select 'Date and Time' and choose any date with the year
Save it and open FGO. If you get a prompt that the application didn't launch properly and whether you want to clear the cache or not, please press on 'No.'
Next, you will get a window stating that the application failed to connect to the server. Here, please tap on 'Retry' and quickly head back to 'Date and Time' settings and modify the date to exhibit the correct date.
Go back to the game and tap on 'Retry' again. Now, you will be able to successfully enter the game.
 How to solve Error 1005: Your graphics card is outdated?
First of all, please open the MultiPlayer and attempt to change the Graphics rendering mode to OpenGL or DX and restart the emulator. Multiplayer games are quite generally popular all over the people. So, it must and should feature any latest android emulators.
However, if the issue doesn't get resolved by switching the Graphics rendering mode from OpenGL to DX or vice versa, you require updating your Graphics card driver.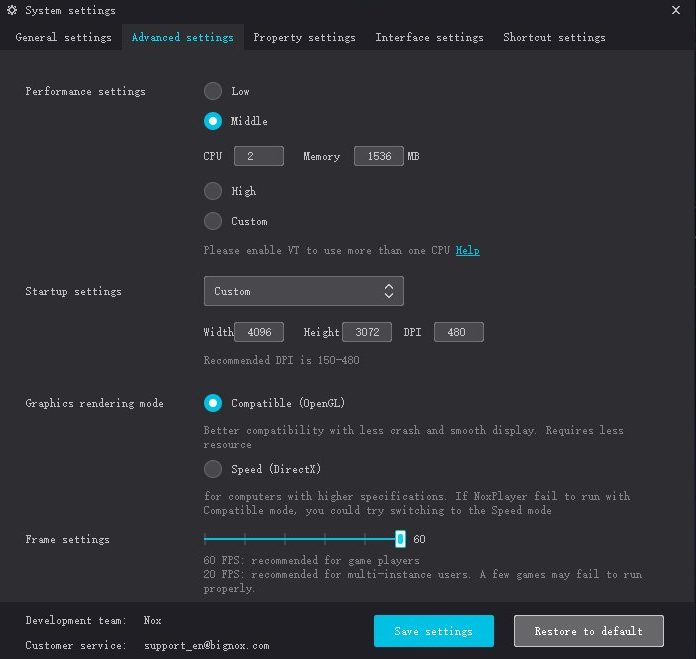 If the issue still doesn't get resolved then it means that the current graphics card driver is not compatible with the minimum system configuration requirements of the emulator. In this case, you require changing the graphics card driver itself and try again.
How to solve Error 1006 – Nox has to reboot for some reason?
If you are facing this error with Nox App Player then it means that you are not utilizing the latest version of the Nox App Player. Please head over to the official website and download the latest version of the Nox App Player to solve this problem.
Otherwise, if you are using the latest version then try to switch graphics rendering mode from OpenGL to DX or vice versa like you did in the 'outdated graphics card' error as mentioned above.
So, these were the frequently asked questions that users have been reported to ask with Nox App Player. In case you are facing any other issue which is not mentioned in the FAQs please let us know about the same in the comments section provided below and we will help you out.
Best Nox Player Alternatives
Nox Player has been the king of all the emulators, but yet majority of features goes on missing. Been very old in market, Nox Player has been creating name of been stable, but other developers are developing similar software at an accelerated pace to bring other amazing features on the go. Let's see some amazing alternatives of Nox Emulator right away.
BlueStacks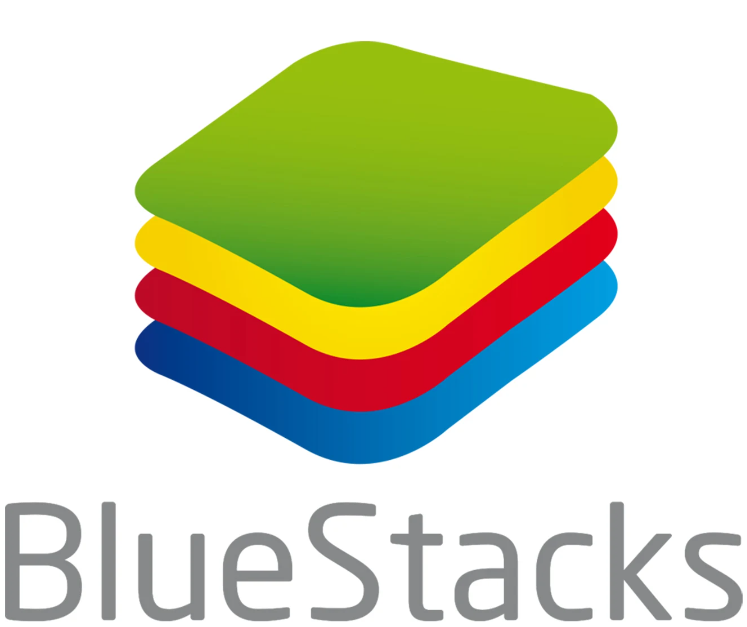 Nox player has been competing with Bluestacks for a very long time. It gives compatibility and controller options to users that are missing in the majority of emulators online.
BlueStacks has more than 2 million game titles in its list of Android games. Best games have been curated from RPG and strategic Categories to give players access to all the popular games in one place.
Using Hybrid cloud Technology players can play games on the cloud with BlueStack 10. If you prefer to play on your device then download BlueStacks 5. You can access all the latest and upcoming games through BlueStacks.
MEmu Play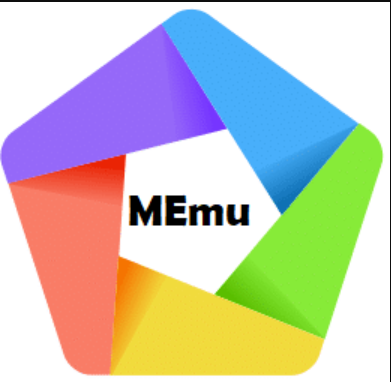 It is new, but yet brings amazing features to users. MEmu Play supports both Intel and AMD CPUs. You can enjoy a couple of features that are prominent and smooth to attract.
MemuPlay is regarded as a safe emulator compared to BlueStacks. The app has a Smart Controls feature which comes with built-in key mapping. This makes the gaming experience more convenient.
Menu simulates Android 9 OS and Outperforms all other Emulators in the segment when comes to Multi-Core Score and 3D Graphic Score. It supports Multiple Instances, so you can run multiple accounts of the same game.
LDPlayer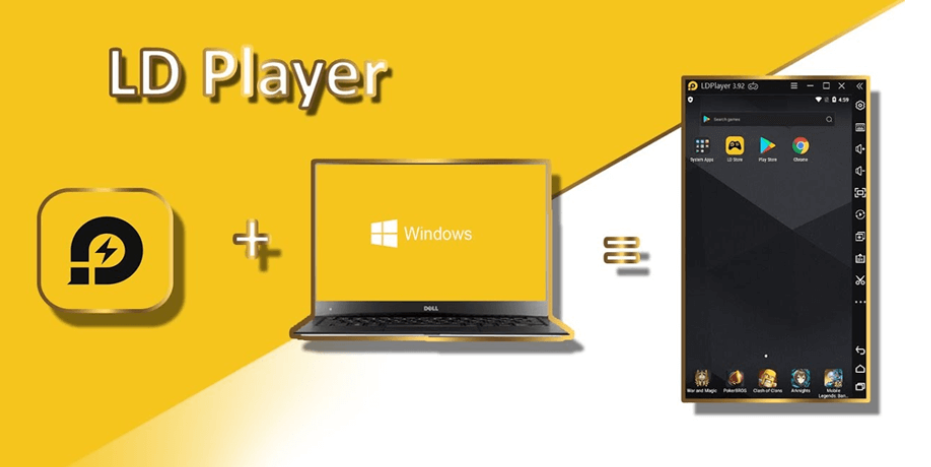 If you are looking for more of a customization emulator application, then LDPlayer is the right place you drop off. People have given their feedback on this amazing app as it runs smoothly and gives a great performance.
LDPlayer is completely free and players can enjoy gaming on PC with a mouse and keyboard. LDPlayer handles heavy gaming easily without any lag.
The Emulator is being updated regularly to be compatible with more games, so it may work even better in the coming days. The app requires at least 2GB RAM.
Remix OS Player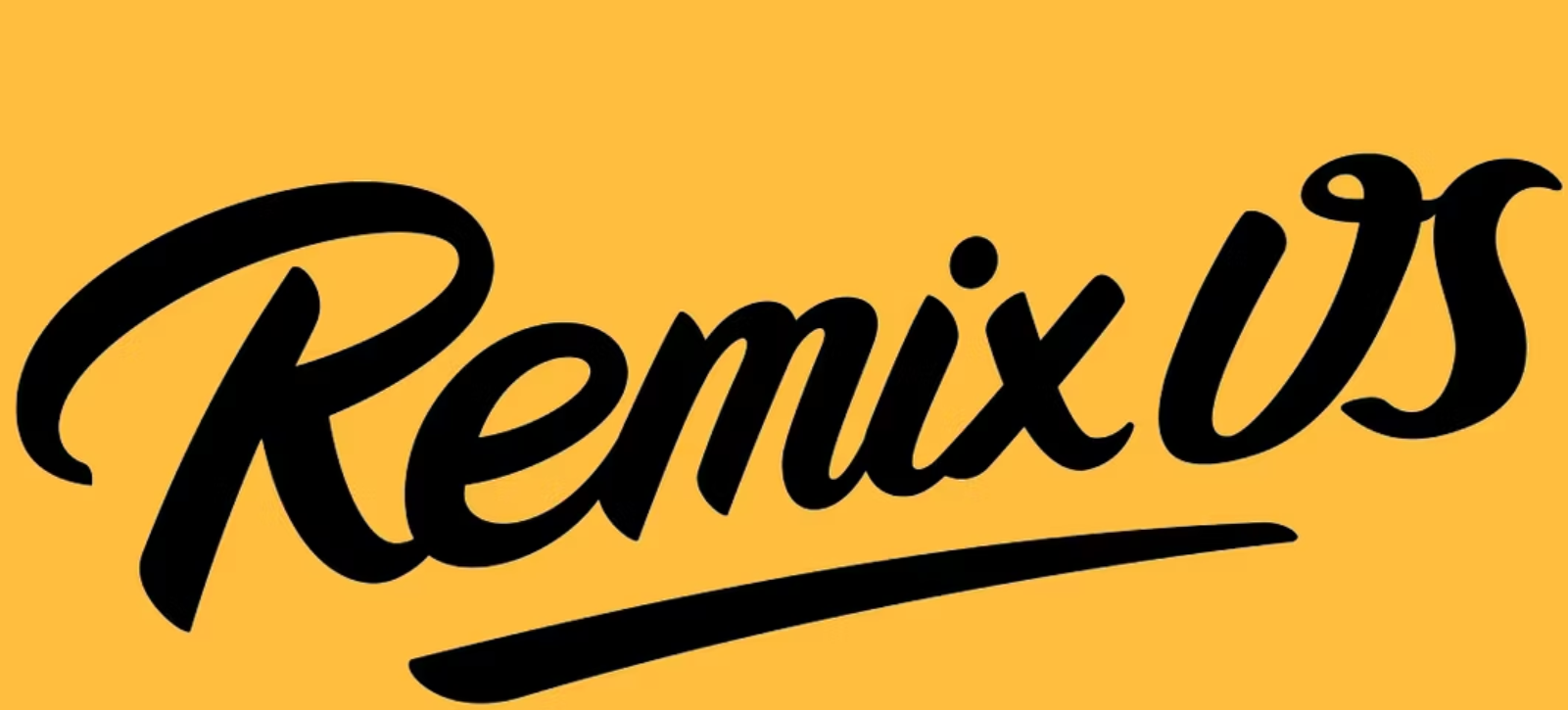 Why hassle you with options with less flexibility? Remix OS Player provides a wide range of flexibility to the users and creates a vacuum of features along with it. It is surely a great Bluestacks alternative.
Though Remix OS Player is discontinued, it is still regarded as one of the best emulators for gaming as it offers multi-window support for gaming.
The app is an Open-Source Project and is designed to work as a desktop version of Android. User Interface is simple and beautiful. The app requires 4 GB of RAM to run smoothly.
Great Apps on PC with Nox Emulator:
Also, check out these awesome guides to watch Movies on PC:
CyberFlix TV App Download on PC.
Latest Nox App Player Download on Windows 11/10/8.1/XP PC & Mac
That was all regarding the features and download steps for Nox App Player on the Windows system. If you are still unclear about anything you can always utilize the comments section provided below to ask doubts.
Thank You.