For hardcore Android gamers and movie buffs, an Android Emulator holds extreme importance. With the aid and assistance of the Android Emulator, all the cool and high-end Android games can be played on Windows PC/MAC Computer. Similarly, movie buffs get to enjoy the latest movies and TV Shows on the big screen of their PC as with the help of the Android Emulator they can easily install the Android video-on-demand application on their computer.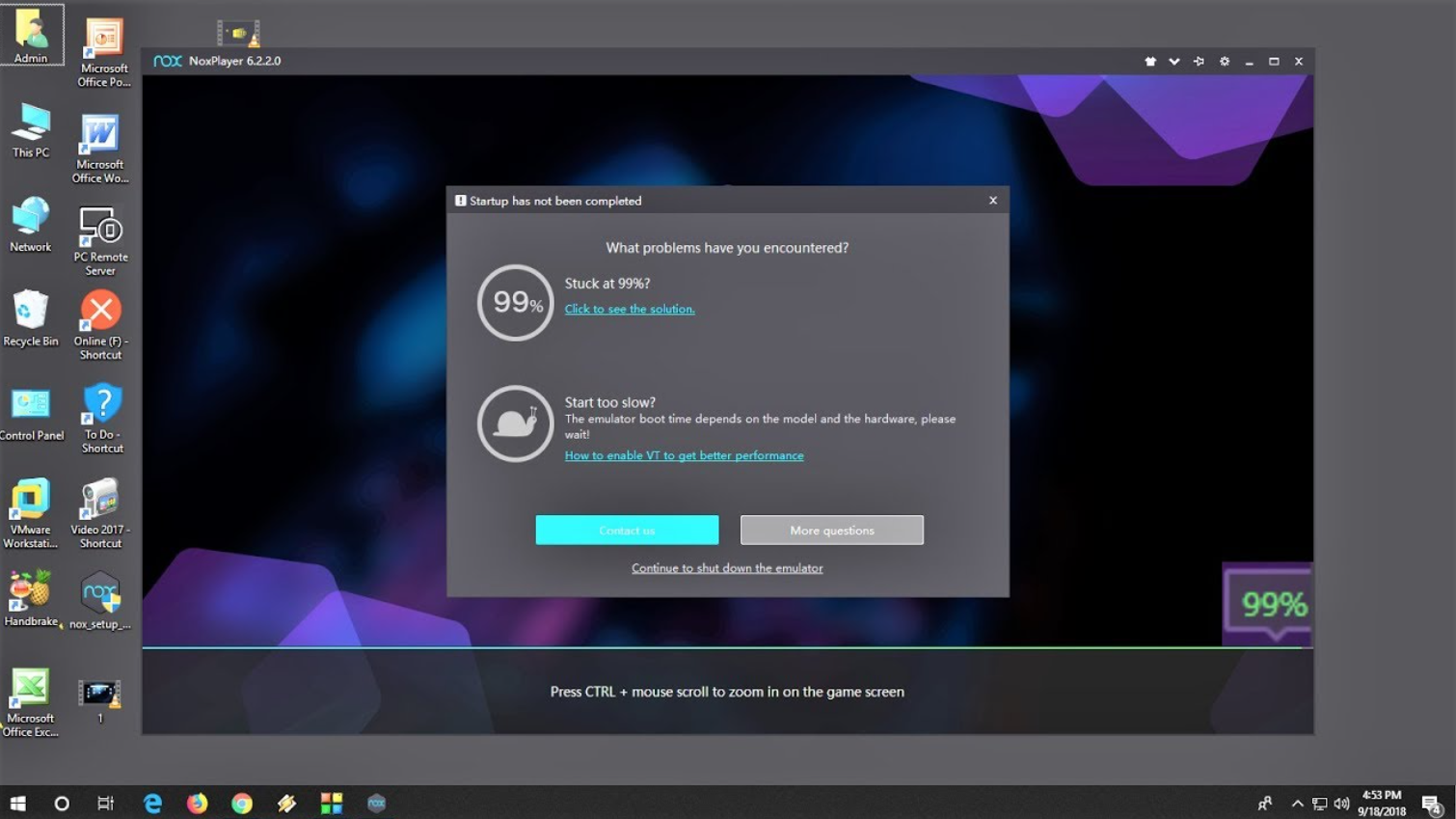 Out of all Android Emulators, Nox App Player is exceedingly popular in the relative market. However, just like any other popular software, Nox App Player also has to go through a series of bugs and errors which totally spoil the user experience. Fortunately, there are fixes for these bugs and errors. In this post, we are going to talk about three primary issues that users are facing with Nox App Player which are Nox App Player Stuck at 99%, Virtual Machine Error and System Failed to Start Error. So, if you are facing any of these issues with Nox App Player, then you have come to the right post. Check this out: Morph TV for PC : Download Morph TV on Windows 10/8/8.1 & Mac Laptop.
 Nox App Player Errors | Here are the Complete Fix :
As mentioned above, following are the three primary types of errors which are coming up in Nox App Player. Users are, indeed, going through a lot of stress because of these errors.
Users are reporting that during the initial loading of the Nox App Player, the emulator gets stuck at 99%.
A majority of the users are facing the error "System failed to start, please contact customer service" immediately after they are launching Nox App Player post installation.
Nox App Player Virtual Machine Error.
Now, we will talk about the fix for each error one by one and try this application: Coto Movies for PC | Downlod Coto Movies on Windows 10/8/8.1 &  Mac.
Error 1 – Nox App Player Stuck at 99% during Initial Loading [Fix]
Following are the alternatives that you can utilize to fix the issue of Nox App Player Stuck at 99% during initial loading.
Please note that for running Nox App Player, VT or Virtualization Technology must be enabled. In case you don't know whether VT is enabled on your PC or not, then your first step will be to check the BIOS type. Simply open the Run Dialog Box and type 'Dxdiag' in it. A window will come up which will hold your BIOS information. Next, please google the steps to activate VT on your BIOS type. This doesn't stop at BIOS. You also require checking whether your PC is VT-x compatible or not. It is not hard to check the same, as an application named as LeoMoon CPU-V can be downloaded from here for the purpose.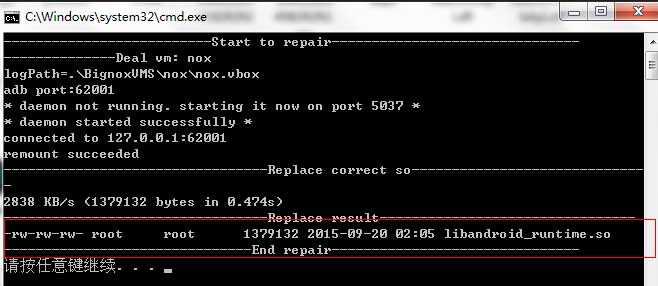 If the Graphics Card installed in your system has an OpenGL version less than 2.0 then you require changing your graphics card.
If any of the above two alternatives don't work, then you can try changing your file system to NTFS.
Please note that none of the above three fixes will work if along with the 99% error you are also getting an error that your system needs repairs. In this case, simply run the Windows Repair Software or the Disk Checker Utility.
Check this amazing Emulator on your PC/Mac to Run Android Games and Apps NOX EMULATOR
Error 2 – System Failed to Start, Please Contact Customer Service [Fix]
Following are the options that you can undertake to fix the Nox App Player System Failed to Start, Please Contact Customer Service Error.
Please note that if you are running 64-Bit Windows then apart from Program Files there will be one more folder named as Program Files (x86). Please navigate to this folder and you will find a Bignox folder under it. Simply open the folder and double-click on 'uninst' file present inside the Bignox folder. Now, go ahead and restart

Nox App Player

.

If this didn't work, then please check your Firewall settings. It might be the case that your Firewall is blocking Nox App Player. Disable firewall and try launching Nox App Player again. If it launches, then it means that the Firewall was the issue. Please navigate to Firewall settings and allow access to Nox App Player.
We need to locate a file whose extension is 'inf' under the path C:\Program Files\ Bignox\ BigNox\VM\ RT\ drivers\ XQHDrv and right click on it. From the pop-up menu, please tap on 'Install.' Restart Nox App Player.
Must Read: Nox Offline Installer (Rooted) Download for Windows 10/8/8.1 &  Mac Devices.
If none of the above methods is working, then try shutting down your Anti-Virus software. Please remember that if apart from Nox, you are running other Android Emulators as well in the same PC, then you require uninstalling the same before launching Nox.
In case you are running Nox on 32-Bit Windows, then also you can try the first option. The only difference will be that you require navigating to Program Files folder, like Program Files (x86) won't be present in 32-Bit Windows.
Error 3 – Nox App Player Virtual Machine Error [Fix]
As you can guess, Nox App Player is a virtual machine that creates a virtual Android environment on your Windows PC/MAC Computer. Hence, this concept of the virtual machine can be held at the very basic and foundational for all Android Emulators. If you are facing the virtual machine error on Nox App Player, please go ahead and try the following solutions.
Please navigate to C:\Program Files\Bignox\BigNox\VM\RT\drivers\XQHDrv folder, right-click on XQHDrv.inf and choose to install. Then restart Nox Android Emulator.

If you have got other Android Emulators installed on your Windows PC/MAC Computer, then you got to uninstall each one of them before launching Noxplayer. More than one Android emulators on a single PC can result in a conflict, leading to various kinds of errors.
Best application to watch movies and shows: MediaBox for PC | Download MediaBox HD on Windows 10/8.1/8 & Mac.
Complete Fix for Nox App Player Stuck at 99%, Virtual Machine and System Failed to Start Error
So, these were the possible solutions for Nox App Player stuck at 99%, Virtual Machine error and System Failed to Start error. Please let us know in the comments section provided below whether you were able to fix the issue being faced by you or not. If you are facing any other error apart from the ones mentioned in this post, then also please let us know about the same in the comments section. We are always happy to help you.
Frequently Asked Questions[FAQs] – NoxPlayer
Q - How to solve NOXPlayer stuck at 99% ?
Firstly, make sure you are using the latest version of Noxplayer and the Android app you are running. Second, check if allocated memory for Noxplayer is less than 4000 MB if it is so, increasing it to more than 5000 MB may be helpful. Third, See if VT (virtual technology) is enabled, if not enable it from the BIOS settings. Fourth, try switching to OpenGL graphics mode. Lastly, Disable firewall and Anti-virus.
Q - Error 1020 or 1008 Virtual Machine failed to Start
Disable Firewall and Anti Virus. Then navigate to C:Program Files (x86)Nox oxvm. Right click on NOXVM file and "Run as Administrator".
Q - How to enable VT (Virtual Technology) ?
Enter into BIOS Settings of your computer by pressing F2 continuously while booting. Then navigate to Advanced → Processor → CPU → Virtualization. Set the Virtualization Technology option to Enable. Then press F10 key to Save changes and exit Now restart the computer, so the changes takes effect.