Syncler APK – Fork of TVZion | Install on Android Phones/Android TV: If you are here, then you are probably looking for an alternative to TVZion that recently went offline due to copyright complaints. Well! There's no need to get pissed off as in this post we are going to talk about Syncler APK, which gets its fundamental code from and is a direct fork of TVZion.

Syncler APK provides you information on movies and TV shows, supports Debrid services, trakt.tv and much more. In this post, we are going to have an elaborate look on Syncler APK and how to install the same on Android mobiles/tablets. You can check out the best guide to Install Syncler APK on PC Windows 10/8.1/7 & Mac with Nox Player.
Syncler APK – How's it Different from TVZion?
Syncler application is different from TVZion due to the fact that the former doesn't carry links of its own and doesn't even include scrapers. This is because the developer wanted to prevent what happened with TVZion from happening to Syncler. Check out some of the interesting features of Syncler.
Syncler APK App Information:
| | |
| --- | --- |
| App Name | Syncler App |
| Original Dev | TVZion Fork |
| App Size | 26.7MB |
| Compatibility | Android 4.4 & Above |
| License Type | Free |
| Compatible With | Android, FireStick, PC, Roku & Nvidia Shield TV |
| Content Rating | Content Rated Above 12+ |
| Downloads | 10,00,000+ |
Syncler Home >

The home page of the application contains a ton of movies and TV shows neatly arranged in different sections viz genres, New, HD, years, and more. So, whatever information you require for your favorite title, it is right below your fingertips.

Voice Search >

Search for your favorite movie/TV show through your voice.

Trakt.tv Support >

You can integrate trakt.tv with Syncler and access your watch list, liked lists, Trakt collection, directly from Syncler.

Separate UI for Android TV >

If you are going to install Syncler on Android TV, you will get to witness a totally different interface as compared to mobile version.

Android TV Home >

Android TV Home and Android TV recommendations are integrated within Syncler. So, you can see the list of your preferred content right at Android TV home on Syncler.

Boon for Debrid Users >

You can manage your Debrid account from within Syncler via the Debrid Suite (Debrid Manager, Debrid Cloud, Magnet Picker). Debrid Cloud allows you to stream content directly on Syncler from the cloud.

Cloud Cache Streaming >

On Syncler, you can stream content directly from the Debrid cloud cache using your Debrid subscription.

Custom Source Filtering >

You can filter the sources through various divisions like bitrate, file size, resolution, quality, and more. This makes

Auto play

better as Syncler will directly play the content from the best source.

Advanced Meta Data Detection >

Right next to the video, you can see the resolution/bitrate. Hence, you can avoid guessing the same with the file size.

Syncler APK Installed on Android (TVZion Fork)
Must check guide – TVTap Pro APK Download on PC (Best HD Live TV App).
Syncler on Android – Some More Features
Apart from the above standard features, following are some more highlights of the Syncler application.
You can cast content to your television via Chromecast.

It supports external media players; MX and VLC.

Syncler has an Anime section as well.
Please note that with upcoming updates, new features will be added to the application.
The user interface of Syncler is simply stunning. As mentioned above, due to seamless integration of Android TV Home with Syncler, you can continue watching titles on your Android TV Home via the Syncler application.

The Syncler home page comes with endless scroll lists. Due to these endless lists, you never have to go anywhere else other than the home page.

Even the episodes list for the TV shows is consistent. You don't have to select seasons.

The Watch List section can be sorted into All, TV, Movie, A-Z, Latest.

The special content section in Syncler holds the upcoming, new in HD, Airing today, and Recently Aired section.

You can watch trailers as well.
Best HD Movies App – CineHub APK Download on PC Windows, Mac & Linux  | Free.
Streaming on Syncler | How to Stream on Syncler?
The above mentioned features Advanced Meta Data Detection and Custom Source Filtering make streaming a beautiful experience on the application.
You can set up a default subtitle mode, see the ratings of the subtitle file before downloading, and even search for subtitles by movie name, IMDB id, and more.

Since Syncler supports external media players, you can use them to play content. You can even download and copy the sources.

Choose from different actions as to what happens when you tap on sources. Whether you want Syncler to ask you every time, cast to TV, look for subtitles, play, or download.

You can even hide the list of sources. Syncler app will automatically look for minimum numbers of sources and play the best out of them automatically.

The other features are:

Auto Play next episode.

Continue from wherever you left off.

In-built default player.

Chromecast support
What are the External Services Supported by Syncler?
Following are the external services supported by Syncler:
Trakt.tv

Real-Debrid.

Premiumize.

All-Debrid.

External Players (MX + VLC).
What is the Content Available in Syncler?
Syncler doesn't come with its own links or scrapers.
You can install your own third-party provider packages to stream content in Syncler.

If you have a Debrid subscription, you can stream content directly from the Debrid-cloud cache. As of now, Syncler supports Real-Debrid, Premiumize, and All-Debrid.

Syncler has a Debrid Suite that includes Debrid Manager, Debrid Cloud, and Magnet Picker that allows you to seamlessly manage your Debrid subscription directly on Syncler.

Syncler+ Activated with Helios
Going forward, let us check how to download and install Syncler Mod APK on Android.
Anime lovers should check this out – AnimeFlix APK Download on PC [UPDATED VERSION].
Syncler APK Free Download Android
Before you can commence the installation process of Syncler on your Android device, you need to have the APK file present on your system. For your convenience, we have provided the link to download the same below.
Install Syncler APK on Android [STEPS]
Please navigate to the download location of Syncler APK file.

Tap on the APK file to commence the installation process.

Install 'Syncler APK'

Follow simple on-screen installation instructions and continue with the process.

Within a minute, the installation will complete.

Open Installed 'Syncler App'

Exit the APK installer.

Move to the home screen of your Android device and you will have the icon of Syncler present on your device's home screen.

Now, Launch the Syncler App(TVZion Fork) from home screen and enjoy your applications.

Syncler App UI – Movies & TV Shows
How to Uninstall Syncler App from Android
As a first, please navigate to Settings on your Android device.

Android Settings

Please tap on Apps or Application Manager.

Apps Section – Android

Scroll down the list and navigate to the listing of Syncler.

Tap on the listing and hit Uninstall to complete remove the app from your Android device.

Uninstall Syncler App

Confirm it by clicking on 'Ok' and we are good to go.

Click on 'OK' – Syncler App
Check my favorite game: Brave Legends for PC (Windows 10/8.1/7 & Mac) – Nox.
Helios Setup to Syncler | Setup Helios on Syncler
If you are looking for links in Syncler, please note that the platform won't provide links of its own as the developer doesn't want Syncler to be taken down like what happened with TVZion and other similar clones or mods. In the recent update to Syncler, the developer added complete support for Helios providers. Below, we are going to cover the steps as to how to setup Helios on Syncler.
Prerequisites for Setting up Helios on Syncler
In order to setup Helios on Syncler, you need to activate Syncler+ subscription. You can do that by tapping on Syncler+ in the menu on the left hand side and entering 'S+' as your Syncler+ code. You have to enter 'S+' without the quotes.

Please note that you need to have a Debrid service to get Helios operational.
Setup Helios on Syncler APK(TVZion Fork)
Please tap on Settings.
Navigate to Provider Packages > Install > Helios.

Helios Setup on Syncler+

On-screen guide will come up on the screen. Follow the same.

Helios Setup Installation on Syncler+

Copy and paste the below provided links. Make sure there's a gap between each link. You can do that by hitting the 'Enter' key after putting in a link.

Navigate back to the application and you will see 4 packages visible under Helios packages.

Now, link your Debrid account and trakt.tv as usual and you are good to proceed.

Syncler+ Activated with Helios
Helios on Syncler  APK | Beta Changelog
Update 1 > Episode search wasn't working. The associated bug was fixed.
Update 2 > Provider URL/Data Entry on website refreshes the page when upper case characters are used for entering the app code. The associated bug was fixed.
Update 3 > You will need a Debrid service to get Helios working.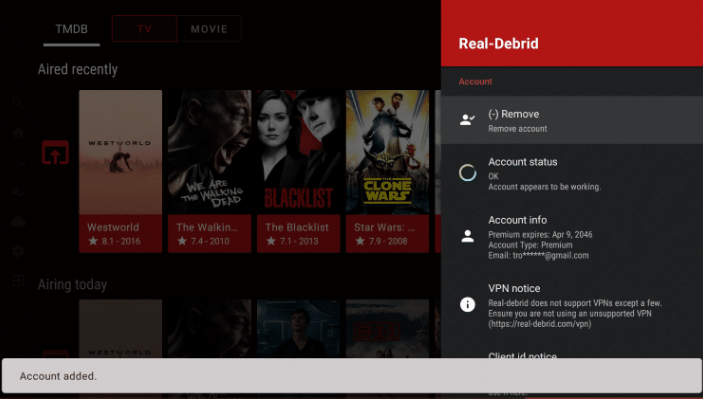 Please note that the Filelinked ID is 52358658.
Apps Similar to Syncler | Alternatives to Syncler App
If you just want to stream movies/TV shows on your Android device, then you can try FilmPlus APK. FilmPlus APK contains a massive collection of latest movies and TV shows from different OTT sources. Moreover, it is completely free to use the app and doesn't ask to root your Android device.
Watched is an application similar to Kodi, however, it is much simpler to use. Adding add-ons in Watched is a one-step process, while in Kodi, we had to follow so many steps for installing an addon. Using Watched APK, you can stream latest movies, TV shows, and anime on your Android device.
Frequently Asked Questions [FAQs]
Q – Can I Create My own Scrapers in Syncler?
You can create, edit, and deploy your own Scrapers in Syncler. Going forward, support for third-part add-ons will also be provided.
Q – Is Syncler Ad-Free?
The free version of Syncler is not Ad-Free. To get an ad-free experience, you need to opt for Syncler+ or S+ membership.
Q – Where are the links in Syncler?
Syncler doesn't provide any links or scrapers on its own.
Q – Can I Install Syncler on Firestick?
Yes! You can install Syncler on Firestick as well as Nvidia Shield.
Also, check out if you are looking for Best Apps to Watch Movies on PC:
Conclusion – Syncler APK Free Download on Android
That was all regarding Syncler app on Android. If you have any further questions to ask or face any issues while using the application, please let us know about the same in the comments section provided below. We will get back to you with the required answers on a priority basis.
Thank You.